LinkFM Expanded Service Events
Throughout the year, LinkFM will expand service to better serve key downtown events. This expanded service might include running earlier or later than usual, or having an extra bus on the route for more frequent pickups. Watch for announcements on our website and social media accounts closer to the event, in order to see specific service changes.
Unglued Craft Fest
February 23, 2019
Plains Art Museum
This event is organized by Unglued, and it features craft vendors, activities, and workshops.
Celtic Festival
March 9, 2019
Hjemkomst Center
Celtic Festival is a annual celebration of the rich culture of the seven Celtic nations featuring the intriguing history, arts and traditions of Brittany, Cornwall, Isle of Man, Galicia, Ireland, Scotland and Wales.
St. Patrick's Day Parade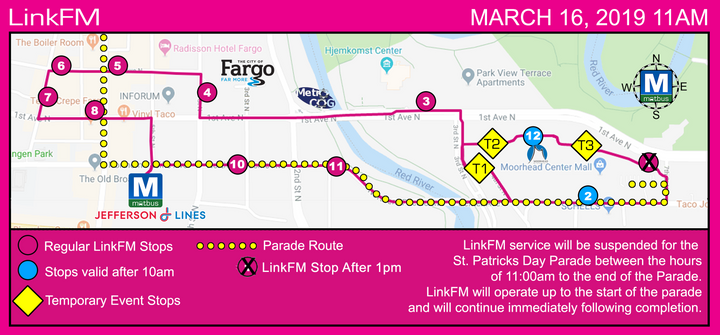 23rd Annual St. Patrick's Day Parade
Saturday, March 16, 2019 11AM
LinkFM service begins at 9:00am
Fargo Downtown Community Partnership, City of Fargo, City of Moorhead and Jefferson Lines are hosting this years parade. LinkFM will be available to all attendees before and after the event.
Parking:
Parade attendees are encouraged to utilize the LinkFM before and after the parade. Parking will be available at the Moorhead Center Mall to shuttle attendees to and from Downtown for the parade event. Additional temporary bus stops for attendees will also be placed throughout the mall parking lot.
Scandinavian Hjemkomst & Midwest Viking Festival
June 21-22, 2019
Hjemkomst Center
From the forested lakes of Finland through the Norwegian fjords to the shores of Iceland, this festival brings together an international collection of chefs, artists, musicians, storytellers, historians, and vendors to fully immerse you in the Nordic roots that planted themselves so prominently in our Red River Valley communities. This festival is all about local history and global communities.
Downtown Fargo Street Fair
July 18-20, 2019
Downtown Fargo
The 44th Annual Downtown Fargo Street Fair of arts, crafts, and food brings hundreds of vendors to the city center for one of Fargo's biggest events of the year and North Dakota's biggest free outdoor event.
German Kulturfest
September 14, 2019
Hjemkomst Center
Styled after the many Volksfests celebrations held annually throughout Germany, German Kulturfest offers a full day of food, drink, and entertainment in an effort to preserve and share a prominent piece of the region's local history and heritage.
TEDxFargo
July 25, 2019
Fargo Civic Center
In the spirit of ideas worth spreading, TED has created a program called TEDx. TEDx is a program of local, self-organized events that bring people together to share a TED-like experience. At this TEDxFargo event, TEDTalks video and live speakers will combine to spark deep discussion and connection in a small group.
Pangea: Cultivate Our Cultures
November 16, 2019
Hjemkomst Center
Pangea is the largest free, family-friendly celebration of cultural diversity in the community. In fact, one of the few festivals of its size and kind in the Midwest, Pangea highlights the global roots of the local Fargo-Moorhead community and continues to offer visitors a chance to immerse themselves in the region's vibrant diversity through food, music, arts, crafts, stories, and children's activities.
Holiday Lights Parade
November 19, 2019
Downtown Fargo-Moorhead
The annual kick-off to the holidays, presented by the Downtown Community Partnership & sponsored by Xcel Energy. Find a spot along Broadway to watch the hundreds of different floats lit up with different Christmas themed lights.